Posts for tag: toothache
By Cipriani Dental Associates
August 28, 2018
Your tooth is so sensitive to cold drinks and to pressure you can hardly stand it. You must address this problem, but you're afraid your dentist will advise a root canal. Don't worry. Root canal therapy with Dr. Pier Cipriani at Cipriani Dental Associates in Newton, PA stops dental pain and sensitivity, potentially saving a tooth from needless extraction.
What is a root canal?
A root canal is part of your tooth. In fact, front teeth have one canal, and back teeth can have up to three or four. Hollow and filled with soft pulp, nerves and blood vessels, these chambers supports and nourishes the tooth but are not essential to its long-term function. As such, if the pulp becomes damaged and inflamed, your Newton dentist may remove it with endodontic therapy, the official name for root canal treatment.
Your symptoms, visual examination and X-ray imaging tell Dr. Cipriani if your tooth is deeply cracked, extensively decayed or abscessed (infected). These situations call for endodontic therapy to clean out the root canals and to fill and support the interior structure with an elastic putty known as gutta-percha. After sufficient healing time, Dr. Cipriani places a custom-made porcelain crown which will protect your tooth and restore its functionality and appearance.
Pain relief
Root canal therapy does relieve the pain associated with infection. Plus, as part of the process, Dr. Cipriani places antibiotics in the canals and may even prescribe oral antibiotics for you to take as you recover.
As your tooth heals, the surrounding gums and bone may still be sore for a few days post-procedure. You may even feel a bit of dental sensitivity; however, this will resolve, and your fully restored tooth will be pain-free.
Symptoms which indicate the need for a root canal
Severe toothache pain and dental sensitivity to cold, heat, pressure and chewing indicate you need this restorative service. Other concerning signs include:
Bad breath
Drainage
Darkened tooth enamel
A large crack or chip
Lost filling or crown
A red pimple,or fistula, on the gums near the tooth
Jaw and/or gum swelling
A patient needs a root canal and crown when a congenitally misshapen or weak tooth (a peg-shaped incisor) shows signs of failure.

Find out more

The American Association of Endodontists says that getting a root canal is no more painful than a simple crown or filling procedure. So, if Dr. Cipriani looks at your tooth and says you need a root canal, be confident that all will be well. Contact Cipriani Dental Associates today to arrange a consultation. Call (215) 968-0620.
By Cipriani Dental Associates
December 29, 2014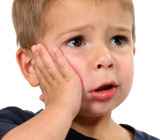 When it comes to childhood injuries — cuts and scrapes, growing pains, even wounded pride — it's often a parent's job to try and make things better. But sometimes it's hard to know whether the hurt indicates a serious problem, or if it's a situation that will resolve itself as soon as the sun comes up. If pain is being caused by a toothache, here are some general rules that can help you figure out what's the best thing to do.
1. Unless it's accompanied by fever and swelling, a child's toothache isn't generally an emergency.
The first thing to do is calm down (both you and the child) — and talk! Find out exactly where the pain comes from, and when and why it might have started. (Your child may have forgotten to tell you about that fall in the gym...) Sometimes, a little sleuthing will give you a clue about what's causing the pain.
2. Tooth decay, a bacteria-induced infection, is the most common cause of toothaches.
Check the teeth for brown spots or tiny holes (cavities) which might indicate decay — especially on the biting surfaces and in the areas between teeth. Next, look at the gums around the hurt tooth. If they show cuts or bruises, that's a sign of trauma. If you see only swelling, it may indicate the formation of an abscess.
3. If nothing looks obviously wrong, try gently flossing both sides of the tooth.
This may dislodge a bit of trapped food or candy, and relieve the pressure and soreness. But if that doesn't help, remember that some conditions — like nerve damage inside the tooth, for example — may have no apparent symptoms except pain.
4. Treat pain with an appropriate dose of acetaminophen or ibuprofen.
Base the dose on your child's age and weight, according to the medication's instructions. You can also apply an ice pack (one minute on, one minute off) to the outside of the jaw. But NEVER rub aspirin (or any painkiller) directly on a child's gums: It can cause burns and severe discomfort.
5. Pain that keeps a child awake at night, or persists into the next day, needs professional evaluation as soon as possible.
Otherwise, unless the pain resolves quickly and you're sure you know exactly what caused the toothache, it's best to bring your child in for an examination as soon as it's practical. You'll feel better having a dental professional, backed with years of experience and training, taking care of your child's health — and you just might prevent a future problem.
If you have questions about toothaches in children, please contact us or schedule an appointment for a consultation. You can learn more in the Dear Doctor magazine article "A Child's Toothache."
By Cipriani Dental Associates
October 30, 2013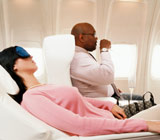 People who fly or scuba dive know firsthand how changes in atmospheric pressure can affect the body: as minor as a popping in the ears, or as life-threatening as decompression sickness. Pressure changes can also cause pain and discomfort in your teeth and sinuses — in fact, severe pain could be a sign of a bigger problem.
Barotrauma (baro – "pressure;" trauma – "injury"), also known as a "squeeze," occurs when the unequal air pressures outside and inside the body attempt to equalize. Many of the body's organs and structures are filled with air within rigid walls; the force created by equalization presses against these walls and associated nerves, which in turn causes the pain.
The sinus cavities and the middle ear spaces are especially sensitive. Each of these has small openings that help with pressure equalization. However, they can become swollen or blocked with mucous (as when you have a head cold), which slows equalization and contributes to the pain.
It's also possible to experience tooth pain during pressure change. This is because the back teeth in the upper jaw share the same nerve pathways as the upper jaw sinuses — pain originating from the sinuses can be felt in the teeth, and vice-versa. In fact, it's because of this shared pathway that pressure changes can amplify pain from a tooth with a deeper problem, such as a crack, fracture or a defect in dental work.
Besides problems with your teeth, the severe pain could also be related to temporo-mandibular joint dysfunction (TMD), which is pain or discomfort in the small joint that connects your lower jaw to your skull. There are a number of causes for this, but a common one for scuba divers is an ill-fitted regulator mouthpiece that they are biting down on too hard while diving. A custom-fitted mouthpiece could help alleviate the problem.
If you've been experiencing tooth pain during pressure change events, you should see us for an examination before you fly or dive again. There might be more to your pain — and correcting these underlying problems could save you extreme discomfort in the future.
If you would like more information on the effects of atmospheric pressure changes on teeth, please contact us or schedule an appointment for a consultation. You can also learn more about this topic by reading the Dear Doctor magazine article "Pressure Changes Can Cause Tooth & Sinus Pain."