Posts for tag: root canal
By CIPRIANI DENTAL ASSOCIATES
April 17, 2018
There is nothing to fear about root canals. Find out more about this commonly performed dental procedure.
Hearing your dentist tell you that you need a root canal may fill you with anxiety, but there is truly nothing to fear. Arm yourself with all the information you need to understand your upcoming
procedure so that you can get through it easily and stress-free.
Q. What is a root canal?
A. This endodontic procedure is necessary when the inside of the tooth, known as the dental pulp, is either infected or damaged. The dental pulp can be affected by severe decay, infection or trauma. Once the damage reaches the pulp, your endodontist will recommend having a root canal.
Q. Do I need a root canal?
A. It can be difficult to know when you might need to come in for a root canal, which is why going in for your six-month checkup can protect your smile and detect issues when they are still easy to fix. Common symptoms that might warrant a root canal include,
Extreme sensitivity to hot or cold

Persistent or severe pain, particularly when chewing

Tooth pain that keeps you up at night

An abscess that develops around the affected tooth
Q. What should I expect from my upcoming procedure?
A. Root canals are a common practice. While many people worry that it might be rather time-consuming and invasive, it is no more complicated than getting a cavity filled.
The purpose of the procedure is to remove the affected dental pulp. Your general dentist will drill through the hard outer layers of enamel until we reach the internal part of the tooth. From there, your dentist will carefully remove the diseased tissue and disinfect the inside of the tooth if an infection is present. Once treated, we will use special materials to rebuild the tooth from the inside out. Most teeth treated with a root canal will also need a dental crown to protect the weakened tooth from further damage.
Q. Is the procedure painful?
A. Most people worry that a root canal will be painful. Everyone's heard stories! But keep in mind that many people needing a root canal are dealing with pretty unpleasant and chronic dental pain. The purpose of the procedure isn't to instill more pain, but to actually eliminate the source of the pain. Plus, a root canal is performed under local anesthesia, so you shouldn't feel a thing.
Contact your Dentist
Still have questions about root canal therapy? Need to schedule your next dental appointment? Then it's time to call your Cipriani Dental Associates today. We would be happy to answer all of your dental questions.
By Cipriani Dental Associates
December 29, 2012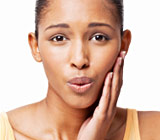 Test yourself on your knowledge of this dental procedure.
A root canal is

A canal shaped structure in the root of your tooth
A blood vessel carrying blood from your gum to your tooth
An instrument used by your dentist in performing dental surgery

Which of these are symptoms of root canal infection?

Sharp, acute and intense pain, which is difficult to pinpoint
Sharp pain when biting down on your tooth or on food
Lingering pain after eating hot or cold foods
Dull ache and pressure
Tenderness (accompanied by swelling) in the nearby gums
All the above

If you don't feel any pain you do not have a root canal infection.

True
False

Root canal treatment is a very painful experience.

True
False

Root canal treatment is called endodontic therapy. What does this word mean?

Bringing the end of your problems
Inside your tooth
Fighting gum disease

You need root canal treatment if

The inside or pulp of your tooth becomes inflamed or infected
Your tooth needs to be gently moved in order to correct your bite
Acid erosion is damaging your tooth

During root canal treatment the canals in your teeth are cleaned out and sealed off.

True
False

Who is qualified to perform root canal treatment?

General dentists
Endodontists
Both of the above
Answers
a. A root canal is a canal shaped space within the root of a tooth that holds the tooth's pulp — which contains the tooth's nerves and blood vessels.
f. — all of the above
False. It is possible to have an infection that has stopped hurting but is still present and causing damage.
False. Root canal treatment doesn't cause pain, it relieves it.
b. The word comes from roots meaning "inside" and "tooth."
a.
True. A small opening is made in the chewing surface of your tooth to gain access to the pulp. Dead and dying tissue is removed and the pulp is cleaned and disinfected. The canals are shaped and then sealed with filling materials to prevent future infection.
c. All general dentists have received training in endodontic treatment and can perform most endodontic procedures. They often refer people needing complicated root canal treatment to endodontists, who have had specialized training in endodontic diagnosis and treatment.
Contact us
today to
schedule an appointment
to discuss your questions about root canal treatment. You can also learn more by reading the
Dear Doctor
magazine article "
Common Concerns about Root Canal Treatment
."