Posts for: May, 2015
By Cipriani Dental Associates
May 23, 2015
You probably already know that using tobacco causes significant health risks: It increases your odds of getting various cancers and coronary diseases, to name just a few. Unfortunately, not everyone is able to kick the habit, even when they know they should. Tooth loss is another issue that can cause trouble for your health, in the form of bone loss, malnutrition, and social or psychological problems. Dental implants are a great way to replace missing teeth — but does smoking complicate the process of getting implants?
The short answer is yes, smoking can make implant placement a bit riskier — but in the big picture, it doesn't mean you can't (or shouldn't) have this procedure done if it's needed.
Smoking, as you know, has harmful effects in your mouth (even leaving aside the risk of oral cancer). The hot gases can burn the oral cavity and damage salivary glands. Nicotine in smoke reduces blood flow to the soft tissues, which can affect the immune response and slow the processes of healing. At the same time, smoking promotes the growth of disease-causing oral bacteria.
How does this affect dental implants? Essentially, smoking creates a higher risk that implants may not heal properly after they are placed, and makes them more likely to fail over time. Studies have shown that smokers have an implant failure rate that's twice as great as non-smokers. Does this mean that if you smoke, you shouldn't consider implants to replace missing or failing teeth?
Not necessarily. On the whole, implants are the most successful method of replacing missing teeth. In fact, the overall long-term survival rate of implants for both smokers and non-smokers is well over 90 percent — meaning that only a small percentage don't work as they should. This is where it's important to get the expert opinion of an implant specialist, who can help you decide whether implants are right for your particular situation.
If you do smoke, is there anything you can do to better your odds for having a successful dental implant? Yes: quit now! (Implants are a good excuse to start a smoking-cessation program.) But if you can't, at least stop smoking for one week before and two weeks after implant placement. And if that is not possible, at least go on a smoking diet: restrict the number of cigarettes you smoke by 50% (we know you can at least do that!) Try to follow good oral hygiene practices at all times, and see your dentist regularly for checkups and cleanings.
If you have questions about smoking and dental implants, please contact our office or schedule a consultation. You can read more in the Dear Doctor magazine article "Strategies to Stop Smoking."
By Cipriani Dental Associates
May 08, 2015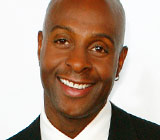 As a Pro Football Hall of Famer and first runner up on the hit television show Dancing with the Stars, Jerry Rice has a face and smile that truly has star quality. However, that was not always the case. During an interview with Dear Doctor magazine, the retired NFL pro discussed his good fortune to have had just a few minor dental injuries throughout his football career. He went on to say that his cosmetic dentist repaired several of his chipped teeth with full crowns. Rice now maintains his beautiful smile with routine cleanings and occasional tooth bleaching.
If you have chipped, broken or missing teeth, or are considering a smile makeover, we want to know exactly what you want to change about your smile, as the old adage is true: Beauty is in the eyes of the beholder. This is one reason why we feel that listening is one of the most important skills we can use during your private, smile-makeover consultation. We want to use this time to ensure we see what you see as attractive and vice versa so that together we can design a realistic, achievable blueprint for your dream smile.
For this reason, we have put together some questions you should ask yourself prior to your appointment:
What do you like and dislike about the color, size, shape and spacing of your teeth?
Do you like how much of your teeth show when you smile and when your lips are relaxed?
Are you happy with the amount of gum tissue that shows when you smile?
Do you prefer a "Hollywood smile" with perfectly aligned, bright white teeth, or do you prefer a more natural looking smile with slight color, shape and shade variations?
To learn more about obtaining the smile you want, continue reading the Dear Doctor magazine article "Great Expectations — Perceptions In Smile Design." Or you can contact us today to schedule an appointment so that we can conduct a thorough examination and discuss your cosmetic and restorative dentistry treatment goals. And if you want to read the entire feature article on Jerry Rice, continue reading "Jerry Rice — An Unbelievable Rise To NFL Stardom."