Posts for: April, 2015
By Cipriani Dental Associates
April 23, 2015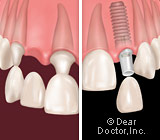 Before determining if a bridge or an implant will work best for you, here is some useful background information. There are two main parts to a tooth; the crown or part that you see above the gum line and the root portion that is below the gum line and encased in bone — the part that is replaced by a dental implant.
A dental implant is inserted into the jawbone during a surgical procedure. The implant is actually a titanium screw-like device that is placed in contact with the bone. During a 3 to 6 month healing period, it subsequently fuses to the bone. A crown made from dental porcelain, gold or a combination of both is then attached to the implant to mimic a healthy, normal tooth.
There are two critical reasons why implants are the preferred method for permanently replacing an adult tooth. The first is that they are less susceptible to gum disease and they are not subject to tooth decay. The second is that because they attach to the jawbone and not to the adjacent teeth. And while an implant may cost a little more initially, when compared to the longevity and replacement cost of bridgework over a lifetime, they may cost less.
By contrast, a fixed bridge is also a non-removable restoration or prosthesis (replacement part) that is held in place by attaching it to your natural adjacent teeth. The treatment gets its name from the French word for bridge, "pont," as the tooth being replaced is called a pontic. Before placing a bridge, the teeth on either side of the missing tooth must be prepared by removing layers of tooth enamel. Three new teeth are then crafted as a single unit from dental porcelain and/or precious metals with crowns on either side of the pontic. The pontic is held in place when the crowns are placed. Bridgework is at risk for gum disease and tooth decay and requires careful maintenance.
As with most dental procedures you have options and choices. Luckily, when it comes to determining whether a bridge or an implant will work best for you, you can rely upon our expertise. However, by having a clear understanding of these two options you are now better prepared for working with us should you require this treatment option. To learn more read the article, "Implants Vs. Bridgework." Or, contact us to discuss your questions or to schedule an appointment.
By Cipriani Dental Associates
April 08, 2015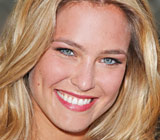 Let's say you happen to be sitting on a plane next to supermodel Bar Refaeli, who was recently voted #1 on Maxim magazine's Hot 100 list. You're a little nervous, but you want to make a good impression. What's the first thing she's going to look at? Your expensive suit? Your sculpted torso? How about — your smile!
"Teeth are the first thing I look at," explained the glamorous cover girl in a Maxim interview. "A nice smile with beautiful teeth is the most attractive thing."
We wholeheartedly agree. But, of course, not everyone is lucky enough to be born with a perfect set of teeth. What to do then?
"Let's just say that with today's orthodontists, I don't understand why people wouldn't fix them," Refaeli stated. Need we say more?
The Israeli supermodel, who has appeared in several Sports Illustrated swimsuit issues, knows what she's talking about. Refaeli started modeling as a young child, but had to put her career on hold for a few years while she got braces. When they came off, at age 11, she began her steady climb to the top of the modeling business.
Plenty of aspiring actors and models — as well as regular folks — get braces as children. But if you're serious about improving your smile, it's never too late to have orthodontic treatment. For adults, there are many options available in addition to the standard metal appliances.
Colorless ceramic braces offer a less noticeable way to correct misaligned teeth. Made of high-tech materials that resist staining, their translucent appearance blends so well with the look of your natural teeth that it can be hard to tell you're wearing them.
Clear aligners are an alternative to braces that are worn 20-22 hours per day. They consist of a series of precision-made, transparent "trays" that gradually straighten your teeth over a period of time. Best of all, you can remove them for special occasions — like meeting a supermodel.
Which type of orthodontic treatment is best for you? Why not come in for a consultation and find out! Working together, we can evaluate your situation and develop an effective, individualized treatment plan that fits your lifestyle.
If you have questions about orthodontic treatment, please contact us or schedule an appointment for a consultation. You can learn more in the Dear Doctor magazine article "Orthodontics For The Older Adult."