Posts for: September, 2014
By Cipriani Dental Associates
September 24, 2014
One day, while looking at old pictures of himself, 34-year-old American Idol finalist Elliott Yamin noticed something peculiar. "I [had] figured out how to kind of smile without displaying all my teeth," he told an interviewer with People magazine. The reason: Yamin (like many other people) was unhappy with the way his teeth looked. And others noticed it too: "[They] wrote things in magazines, called me Snaggletooth and things like that," he said.
Yamin's situation came to the attention of dentists from across the country, several of whom offered to fix his crossbite and other problems. One of them even provided the singer with computer-generated renderings of how he'd look after a total "smile makeover" — and that was enough to convince him. Finally, after receiving a set of porcelain veneers and other dental work — all provided free of charge by the concerned dentist — Yamin has the smile he always dreamed of.
You don't have to be an American Idol finalist to appreciate the benefit of having a super smile — and it's never too late to get started! As Yamin found out, a "smile analysis" is the first step, and it's a critical part of the process. This is the time when you and your dentist get to know each other, and begin talking about what kind of a look you want to achieve, and what you should realistically expect.
But it can be tough to express in words exactly what your idea of a perfect smile looks like. Are the teeth completely regular in alignment and "Hollywood white?" A little bit asymmetrical and more natural-looking — or something in between? And exactly how would that look on you? Fortunately, we have a variety of ways to help you make those decisions.
One is computer-generated images, like the ones that persuaded Yamin. Convenient and relatively easy to produce, they're a great way to preview possible changes before a single tooth is touched. However, some people may find it hard to picture their new smile from different angles and in different lights. If you'd like a better representation, it's possible to produce a 3-D model of the proposed work before it's done. This can let you truly visualize your new smile in a realistic way.
If you need even more evidence before deciding, there's still more that can be done. Your teeth can be built up to their new contours with composite resin, a tooth-colored restoration material that can change tooth shape and size with relative ease. A related procedure, the "provisional restoration," gives you a complete preview of the final work. When you're satisfied, the "temporary" materials are replaced with more permanent ones, like long-lasting porcelain veneers. Whichever method you choose, you'll be on your way to a better looking smile.
If you would like more information about a smile makeover, please contact us or schedule an appointment for a consultation. You can also learn more by reading the Dear Doctor magazine articles "Great Expectations — Perceptions in Smile Design" and "Smile Design Enhanced with Porcelain Veneers."
By Cipriani Dental Associates
September 09, 2014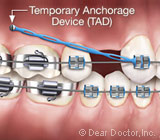 Braces are certainly the most recognized means for moving misaligned teeth. But depending on your or your family member's particular malocclusion (bad bite), your orthodontist may also include other "anchorage" appliances to achieve the best results.
We can move teeth because of a mechanism that already exists in the mouth. The periodontal ligament, which holds teeth in place by attaching the tooth surface to the jawbone, allows teeth to move if needed in response to biting forces or normal tooth wear. Using braces or similar appliances, orthodontists can apply gentle but constant pressure to move teeth to new and better positions.
This applied pressure, however, soon encounters an "equal and opposite reaction," in accordance with Newton's third law of motion. In a way, we're playing tug-of-war with the periodontal ligament — and as in the playground game, the key to "winning" is having the stronger point of resistance, something we call anchorage.
We often use the teeth themselves to establish this anchorage with the help of elastics (rubber bands) attached at various locations in the braces. Sometimes, though, the situation requires a different form of anchorage. In a younger patient, for example, we may want to influence the facial structure's growth and development along with tooth movement. In this case we might use the patient's skull for additional anchorage by having a strap running around the back of the head that attaches to brackets affixed to the teeth.
Another method involves a temporary anchorage device (TAD) directly implanted into the jawbone. We use TADs to isolate teeth we want under pressure from teeth we don't (as with moving front teeth back without causing the back teeth to move forward). Usually made of stainless steel that won't fuse with bone, TADs are relatively simple to remove once treatment is complete. Another form of anchorage is a titanium micro-implant, a miniature version of a dental implant that's also inserted into the bone; like its larger relative, micro-implants fuse with the bone to add greater stability. Their diminutive size, however, eases any difficulty in their eventual removal.
Though some of these appliances aren't visually appealing, they are temporary in nature and only applied for as long as needed. The end result, though, is permanent — beautifully aligned teeth that perform well and look great.
If you would like more information on orthodontic appliances, please contact us or schedule an appointment for a consultation.