Posts for: August, 2014
By Cipriani Dental Associates
August 25, 2014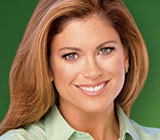 You may have seen Kathy Ireland on the cover of Sports Illustrated, but did you know that she is now a business mogul?
Through it all, Ireland has kept her model good looks, and that includes a bright, glowing smile. In a recent interview with Dear Doctor magazine she said that keeping her smile has required ongoing maintenance and more.
It seems that Ireland is a bit of a daredevil. She described a moment of fun with her children when she tried to stand in their wagon and "wagon surf" across her driveway. It ended badly when she crashed into her parked car and suffered a broken nose, split forehead and several broken teeth. "I learned that my love of adventure exceeds my coordination," she commented.
Ireland was born in Glendale, California in 1963. She demonstrated her drive to succeed early in life, starting at age 4 when she and her sister sold painted rocks from their wagon. Later she had a paper route. She began modeling at 17, with the goal of earning enough to pay for college or to start a business. In her successful modeling career she graced the covers of Glamour, Cosmopolitan, Harper's Bazaar and Sports Illustrated. Her first cover for Sports Illustrated, the publication's 25th Anniversary Swimsuit Edition, was the magazine's best-selling swimsuit issue to date.
In 1993 she founded her marketing and design firm, kathy ireland Worldwide. Now a billion-dollar industry, the firm sells fashions such as wedding gowns and bridesmaid dresses, as well as a wide range of items for home and family.
She has also written a number of books teaching others how to be successful — based on her own experience — as well as three children's books.
Discussing her oral health, Ireland says that she required serious professional assistance on more than one occasion. When she was a child she knocked out a tooth and later knocked it loose again. As an adolescent she wore braces for about three years. After the driveway incident she needed numerous veneers and dental implants to replace a lost tooth and restore her smile.
Her maintenance routine includes regular flossing and brushing, and she has her teeth cleaned every six months. She keeps up on her reading about the latest in research on dental health, and encourages her three children to floss and brush their teeth, to limit eating sweets and to do what they can to avoid injuries to their mouths and teeth.
Contact us today to schedule an appointment to discuss your questions about how to maintain your own smile. You can also learn more by reading the Dear Doctor magazine article "Kathy Ireland."
By Cipriani Dental Associates
August 15, 2014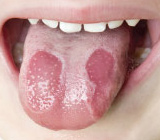 Picture this: You're feeling some mild irritation in your mouth, which seems to be coming from the area near your tongue. You go to the mirror, open wide… and notice a series of red patches on the tongue's surface, which are surrounded by whitish borders. Should you drop what you're doing and rush to get medical help right away?
Sure, a visit to the dentist might be a good idea to rule out more serious problems — but first, sit down and relax for a moment. Chances are what you're experiencing is an essentially harmless condition called "benign migratory glossitis," which is also known by its common name — geographic tongue. While it may look unusual, geographic tongue isn't a serious condition: It's not cancerous or contagious, and it doesn't generally lead to more severe health problems. However, it can make your tongue feel a bit more sensitive, and may occasionally lead to mild sensations of burning, stinging or numbness.
The appearance of reddish patches on the tongue results from the temporary loss of structures called papillae: tiny bumps which normally cover the tongue's surface. These patches may appear or disappear over the course of days — or even hours — and sometimes appear to change their shape or location.
What causes geographic tongue? Several factors seem to be responsible for setting off the problem, but as of yet the actual cause of the disease is unknown. Among these triggers are emotional stress and psychological upsets, hormonal disturbances, and deficiencies in zinc or vitamin B. The condition, which affects between one and three percent of the population, is seen more frequently in non-smokers, in women, and in those with a family history of the problem. It is also associated with people who suffer from psoriasis, a common skin condition, and those who have a fissured (deeply grooved) tongue.
Unfortunately, there is no "cure" for geographic tongue — but the good news is that treatment is usually unnecessary. If you're experiencing this condition, it may help if you avoid foods with high levels of acidity (like tomatoes and citrus fruits), as well as hot and spicy foods. Alcohol and other astringent substances (like some mouthwashes) may also aggravate it.
While geographic tongue isn't a serious condition, it can cause worry and discomfort. That's why it's a good idea for you to come into the office and have it checked, just to make sure. A thorough examination can put your mind at ease, and rule out other conditions that may be more of a concern. We may be also able to help you manage this condition by prescribing anesthetic mouth rinses, antihistamines, or other treatments.
If you would like more information about geographic tongue, please contact us or schedule an appointment for a consultation. You can also learn more by reading the Dear Doctor magazine article "Geographic Tongue."