Posts for: January, 2014
By Cipriani Dental Associates
January 23, 2014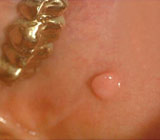 Your mouth's biting and chewing function is an intricate interplay of your teeth, jaws, lips, cheeks and tongue. Most of the time everything works in orderly fashion, but occasionally the soft tissues of the tongue or cheeks get in the way and are accidentally bitten. The resultant wound creates a traumatic fibroma, an overgrowth of tissue that develops to cover the affected area.
A fibroma consists of fibrous tissue made up of the protein collagen; this traumatized tissue functions much like a callous on a tender spot of skin by binding together the new tissues forming as the wound heals. But because the fibroma is raised on the surface of the cheek more than normal tissue, the chances are high it will be bitten again and reinjured, even multiple times. If this occurs the fibroma becomes tougher and more pronounced.
As it becomes raised and hardened in this way, it becomes more noticeable. More than likely, though, it poses no danger other than as an inconvenience. If it becomes too much of a nuisance, or you have concerns that it's more than a benign growth, it can be removed with a simple fifteen-minute procedure. An oral surgeon, periodontist or dentist with surgical training will first anesthetize the area with a local anesthetic; the fibroma is then completely excised (removed) and the wound opening sutured with two or three small sutures. Any post-procedure discomfort should be mild and easily managed by pain medication like aspirin or ibuprofen.
Although it's highly unlikely the fibroma is cancerous, the excised tissue should then be sent for biopsy. Viewing the tissue microscopically is the only definitive way to determine the true nature of the tissue and confirm any diagnosis that the tissue is benign. This is no cause for alarm as it's a standard healthcare procedure to biopsy this particular kind of excised tissue.
"Bumps and lumps" are common occurrences in the mouth. It's a good idea to point them out to us during your regular checkups or at any time if you have a concern. In either case, this bothersome problem can be easily treated.
If you would like more information on traumatic fibromas, please contact us or schedule an appointment for a consultation. You can also learn more about this topic by reading the Dear Doctor magazine article "Common Lumps and Bumps in the Mouth."
By Cipriani Dental Associates
January 08, 2014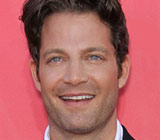 When it comes to dental health, you might say celebrity interior designer and television host Nate Berkus is lucky: Unlike many TV personalities, he didn't need cosmetic dental work to achieve — or maintain — his superstar smile. How did he manage that? Nate credits the preventive dental treatments he received as a youngster.
"I'm grateful for having been given fluoride treatments and sealants as a child. Healthy habits should start at a young age," he told an interviewer from Dear Doctor magazine. We couldn't have said it better — but let's take a moment and examine exactly what these treatments do.
Fluoride treatment — that is, the topical (surface) application of a concentrated fluoride gel to a child's teeth — is a procedure that's often recommended by pediatric dentists. Although tooth enamel is among the hardest substances in nature, fluoride has been shown to make it more resistant to tooth decay. And that means fewer cavities! Studies show that even if you brush regularly and live in an area with fluoridated water, your child could still benefit from the powerful protection of fluoride treatments given at the dental office.
Another potent defense against cavities is dental sealants. Despite your child's best efforts with the toothbrush, it's still possible for decay bacteria to remain in the "pits and fissures" of the teeth — those areas of the molars, for example, which have tiny serrated ridges and valleys where it's easy for bacteria to grow. Dental sealants fill in and protect vulnerable areas from bacterial attack, greatly decreasing the risk that future dental treatment will be required.
Why not take a tip from our favorite celebrity interior designer, and ask about cavity-preventing treatments for your children's teeth? If you would like more information about fluoride treatments or dental sealants, please contact us for a consultation. You can learn more in the Dear Doctor magazine articles "Topical Fluoride" and "Sealants for Children."