Posts for: November, 2013
By Cipriani Dental Associates
November 25, 2013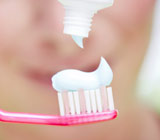 What do burnt eggshells, crushed bones, brick dust and ox-hoof ashes have in common? Are they things you discovered in your kid's pocket? Ingredients in a witches brew? Funky organic compost materials?
It may be hard to believe — but they're all substances that were once used to make toothpaste, from ancient Egyptian concoctions through 18th century British blends. But don't worry: You won't find any broken crockery or ashes inside a modern tube! Today's toothpastes are scientifically formulated to be effective in removing plaque, which helps prevent tooth decay and gum disease (not to mention bad breath.) So what makes them work so well?
One class of ingredients found in all toothpastes is abrasives — also called cleaning and polishing agents. These slightly grainy substances make the mechanical action of brushing more effective. But unlike crushed bones, or the harsh, gritty particles of yore, today's abrasives are designed to remove stains and bacterial films without damaging tooth structure.
Next come detergents, which account for the foam you see when you brush vigorously. Detergents (sometimes called "surfactants") help to break up and wash away materials that would otherwise be difficult to dissolve. An ingredient called sodium lauryl sulfate, which is also found in many shampoos, is probably the most common detergent used in toothpastes.
Fluoride, first included in toothpaste in 1914, is another common ingredient. In fact, all toothpastes that carry the seal of the American Dental Association contain it, typically in the form of sodium fluoride, stannous fluoride or sodium monofluorophosphate. It has been proven to make tooth enamel stronger and more resistant to decay.
In addition to these primary components, toothpastes generally contain flavorings to make them more palatable, and binders and preservatives to hold them together and keep them from drying out. Special-purpose toothpastes — like those designed to whiten teeth, prevent tartar, or help reduce sensitivity — have added ingredients.
But regardless of what's in your toothpaste, there's one thing you should remember: It's not the paste (or the brush) that keeps your teeth and gums healthy — it's the hand that holds it! Brushing once or twice a day, using a soft brush with the proper technique (and your favorite toothpaste!) is probably the most important thing you can do at home to enhance your overall oral health.
If you have questions about toothpastes or oral hygiene, please contact us or schedule an appointment for a consultation. You can learn more in the Dear Doctor magazine article "Toothpaste — What's In It?"
By Cipriani Dental Associates
November 15, 2013
Can having a great smile help land you a high-level business position, a TV show, and a bride? Maybe — at least if you go by the example of Bill Rancic.
The 42-year-old Chicago native is well known as the first winner of NBC-TV's The Apprentice, a reality show where contestants vied for a job with Donald Trump's organization. Shortly after his selection as Trump's newest hire, Rancic met his future wife, Giuliana, when she interviewed him for E! News. Flash forward a few years, and the couple is now hosting their own reality TV show on Style network.
So how much has Bill's winning smile helped?
"I think a great smile says a lot about a person — especially in our professions," Bill recently said in an interview with Dear Doctor magazine. He also mentioned that having a few cosmetic dental treatments helped him close the deal.
As a child, Bill wore braces to correct an overbite. For both kids and adults, orthodontic treatment is often the first step toward getting the smile of your dreams. The practice of orthodontics has changed dramatically in the past 20 years and there are now a number of choices available in lieu of traditional metal braces.
Not Your Father's Braces
For those who need to maintain a "professional" image, tooth-colored braces offer a less noticeable way to straighten your teeth. Lingual braces are another option that's suitable in some situations. These are truly invisible: bonded on the tongue side of the teeth, they can't be seen from the front.
Or, you may be able to forego braces altogether and use a series of clear plastic aligners to gradually bring your teeth into alignment. Not only are these difficult to notice, but they can be completely removed for short periods of time — at important board meetings, for example.
Red-Carpet Tooth Whitening
More recently, Rancic had tooth whitening treatments. Depending on the degree of lightening needed, these can range from custom-fitted bleaching trays that you wear at home under the supervision of a dentist, to in-office whitening treatments that work in far less time. Both can be effective in lightening your teeth by six shades or more.
But if you need the ultimate in whitening, veneers may be the best option. These are fingernail-thin coatings, made of pearly-white porcelain or composite material, that are placed directly on the tooth surfaces. Realistic and durable, they can provide a "Hollywood white" smile that's ready for the red carpet.
Did Bill's cosmetic dental work really improve his life? We can't say for sure — but as his wife Giuliana recently told Dear Doctor, "First impressions are very important, and having a beautiful smile will help anyone make a great impact on others." So perhaps it worked on her!
If you would like more information on how cosmetic dental treatments can improve your smile, please contact us or schedule an appointment for a consultation. You can learn more about this topic in the Dear Doctor magazine articles "The Magic of Orthodontics" and "Important Teeth Whitening Questions Answered."