Posts for: January, 2013
By Cipriani Dental Associates
January 15, 2013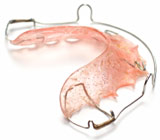 On the day when braces come off, most people feel that their orthodontic treatment is over. When they are then asked to wear retainers, they may wonder what this additional requirement will accomplish. Wasn't the work of moving their teeth to desired positions already completed? To understand the answer to this question, you need to understand how orthodontics works.
How does orthodontic treatment remodel your smile?
Although they give the appearance of being stable and unmoving, teeth and their surrounding structures (gums, jawbones, and ligaments) are living tissues and are actually in a constant state of change.
Teeth are rooted in bone and are attached by a fibrous tissue called the periodontal ligament (from peri meaning around and odont meaning tooth). One side of the ligament attaches to the cementum (part of the tooth's root) and the other side is attached to the bone, with the tooth suspended in between.
These tissues are constantly remodeling themselves, but pressure from the lips and cheeks on one side and from the tongue on the other create a balance that keeps the teeth suspended in the same location. When mild forces are placed on the teeth, such as the forces from the wires used in orthodontic treatment, the tissues slowly adapt and rebuild, resulting in a new position for the teeth.
What are retainers?
Orthodontic retainers are devices usually made of a clear plastic section that is fitted to the roof of the mouth, with thin wires that fit over the teeth.
What is the purpose of retainers?
The remodeling process keeps going after the orthodontic treatment stops, so time is needed for the teeth to reach a new balanced state. The retainer stabilizes them in their new position so that bone and ligament can reform around the teeth and hold them there. This works well for adolescents, whose jaws are in a state of growth, but adults may need outside assistance to stabilize their teeth for a longer time. They may be asked to wear retainers indefinitely to make sure their teeth do not move from their new positions.
What happens if you don't wear your retainers?
If you don't wear your retainers, your teeth are likely to return to the positions they had prior to your orthodontic treatment. This can happen fairly rapidly, underscoring the importance of wearing retainers as instructed.
What are the different types of retainers?
Most retainers are removable devices as described above. For people who require long-term use of retainers, thin retainer wires can be bonded to the inside surfaces of their front teeth. Such wires are usually left in place for several years, relieving them of the need to remove and replace their retainers.
Contact us today to schedule an appointment to discuss your questions about orthodontics and retainers. You can also learn more by reading the Dear Doctor magazine article "Why Orthodontic Retainers?"
By Cipriani Dental Associates
January 05, 2013
Supermodel Christie Brinkley has a one-in-a-million smile, but she is just one of millions who have benefited from today's preferred tooth-replacement technique: the dental implant. In a wide-ranging interview, Brinkley told Dear Doctor magazine about a helicopter accident she suffered while back-country skiing.
"I fractured two molars in the back of my mouth and I had to get two dental implants," Brinkley told the magazine. "I am grateful for the dental implant technology that feels and looks so natural."
You might think it serves little purpose to replace a missing back tooth that was barely visible in your smile to begin with — especially if you don't spend a lot of time posing for magazine covers. But this is actually not the case. Your molars are extremely important for chewing and even for maintaining a more youthful appearance.
Dentists generally agree that losing posterior (back) teeth can have many consequences for the remaining teeth and their surrounding structures, i.e., bone and gums. If back teeth are missing, the front teeth end up bearing more stress than they were built for. And there are certain things that happen when any tooth is lost, whether front or back, that can affect function and appearance.
For one thing, when a tooth is lost the adjacent teeth tend to drift into the empty space or tip towards it. This can adversely affect your bite. Too much shifting can render a tooth basically useless and also leave it more vulnerable to gum disease.
Another complication is the loss of tooth-supporting bone that inevitably occurs when teeth are lost. When a tooth comes out, the bone under it actually begins to melt away. Since back teeth support the vertical dimension of the face, their loss can cause what's known as "bite collapse" — a reduction in facial height that becomes increasingly noticeable over time and can make you look older.
A dental implant can prevent all of these things, while providing you with a replacement that looks and feels just like the tooth you lost.
If you are interested in learning more about implants, please contact us or schedule an appointment for a consultation. If you would like to read Dear Doctor's entire interview with Christie Brinkley, please see "The Secret Behind Christie Brinkley's Supermodel Smile." Dear Doctor magazine also has more on "Replacing Back Teeth."